Microsoft adCenter & Google AdWords Pay Per Click Advertising Coupons
Save Over $100 In The Next 5 Minutes

Bing Ads: get a free Bing coupon today to run PPC advertisements on Bing and Yahoo! Search.

Google AdWords:

You can get a free $75 AdWords coupon here (or here or here or here) ... many options linked, as some of their coupon offers expire over time & we update this page periodically. The Google Partners Program also offers coupons to consultants managing AdWords accounts.
The Engage program offers internet marketers 20 $100 coupons for their clients.
Why do Advertisers Spend Billions on Paid Search?
Search ads are easy to target, track, and measure - which make them extraordinarily profitable. Advertisers keep buying more PPC ads because they work, which is why search marketing has grown from $108.5 million to a $16.1 billion industry in about a decade. (Those numbers are US-only, and Google gets over half of their ad revenues from international markets).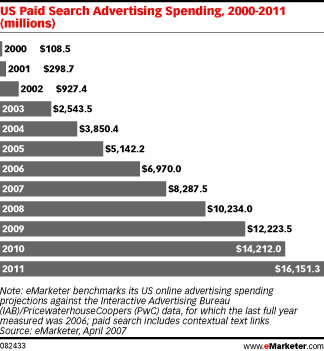 The growth has only continued since 2011, with Google recording over $60 billion in revenues in 2014.
With the above coupons you get to enter the paid search market using free money.
The Dirty Secret of Paid Search Ads
Many affiliate marketers tell you that you need to register at every search engine in the world such that they can get commission from you as you burn your ad budget on low quality traffic.
But the truth is that for most of the world (outside of a few countries like China, South Korea & Russia) there are only 3 search engines you must buy traffic from: Microsoft, Yahoo!, and Google.
Each of these search services has abundant high quality traffic sources
Google is branded as the #1 search engine. They also power the ads on sites like Ask, AOL & Earthlink, in addition to owning YouTube and delivering ads on many newspapers and ecommerce sites.
Yahoo! is the leading web portal with the most traffic.
Microsoft owns the default web browser and operating system.
Even better, since Yahoo! Search outsourced their program to Bing Ads (formerly known as Microsoft adCenter), you only need to buy search ads on 2 platforms to reach over 95% of searchers.
Only the Big 3 Search Engines Matter
Are there other PPC networks? Yes. But most of them do not have a large clean source of traffic. Have you ever performed a search at Miva, Looksmart, SearchFeed, GoClick, ABC Search, Search123, or 7Search? Most web users probably have not. In fact, here is a graph of search share in the United States from HitWise: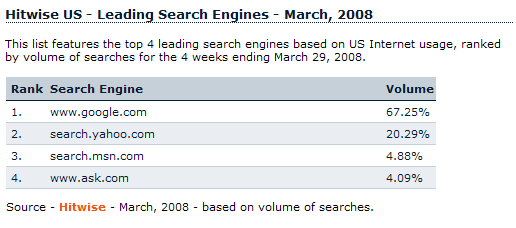 Notice how 96.51% of search queries are consolidated amongst the top 4 search engines. Google syndicates ads to Ask.com & Microsoft's ads are syndicated to Yahoo!, so you really only need to buy in on 2 engines to access over 96% of US based search queries!
In the half-decade since the above image was created, search query volume has only become more consolidated, which is why:
FindWhat & Espotting merged, rebranded into Miva, then were sold off with the rest of Miva's media division to AdKnowledge for only $11.6 million. Before Google went public, FindWhat was worth $350 million.
ValueClick announced divestiture of Search123 for a non-material amount
Searchfeed.com no longer resolves
ABCSearch.com no longer resolves & in 2009 rebranded as Advertise.com
GoClick redirects to Marchex. Marchex is primarily focused on call tracking & local lead solutions
Looksmart's stock trades at around a price of $2 a share when on a reverse split adjusted basis their stock peaked out at around $348 a share
etc etc etc
Coupon Codes You Can Use Today to Save Money
These coupons are only good for new customers.
Bing Ads: get a free $50 Bing coupon today.
Google AdWords:
Gain a Competitive Advantage Today
Want more great SEO insights? Read our SEO blog to keep up with the latest search engine news, and subscribe to our SEO training program to get cutting edge tips we do not share with the general public. Our training program also offers exclusive SEO videos.
Over 100 training modules, covering topics like: keyword research, link building, site architecture, website monetization, pay per click ads, tracking results, and more.
An exclusive interactive community forum
Members only videos and tools
Additional bonuses - like data spreadsheets, and money saving tips