The SEO Toolbar

Download & Installation Instructions
Please go here to install the SEO Toolbar.
Why do Over 500,000 Webmasters use the SEO Toolbar?
Want to know why Google or Bing ranks pages? If so this is the Firefox extension for you. The SEO Toolbar pulls in many useful marketing data points to make it easy get a holistic view of the competitive landscape of a market directly in the search results.

This Firefox toolbar is so good that even Microsoft blogged about it.
And thousands of professional webmasters across the globe love it! See the reviews on Twitter: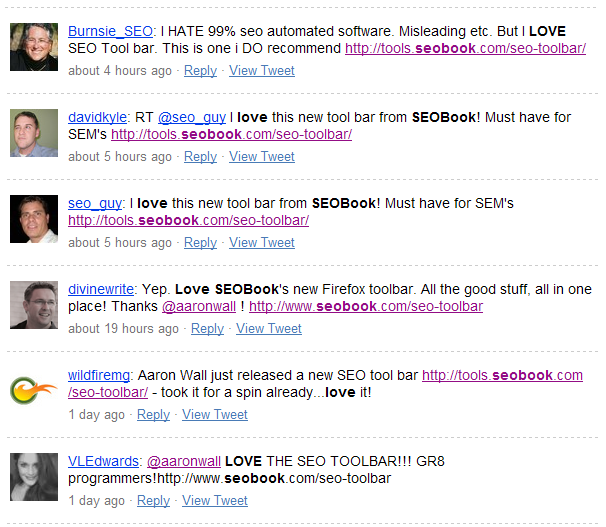 Want to learn more? Watch this quick intro video, and read on
Download & Installation Instructions:
You have to be using Firefox to get this to work. If you have not yet used Firefox go download Firefox, and then come back to this page using Firefox as your web browser.
Set up your free SEO Book account, and you will get this tool + 2 other SEO tools valued at over $300 for free. Already have an account? Log in and your installation link will appear in the place of this message.

After you install the SEO Toolbar and restart your browser you may want to configure the extension settings to fit your preferences.
The Theory...
The SEO game is getting more complex, and it is requiring more effort to keep up with the changes. More and more tools are being released. Some are worth buying, some are not. The idea of this toolbar was to put the best competitive research data and the best SEO research tools at your fingertips - free of charge.
This tool was designed to make it easier to evaluate how strong a competing website is. The SEO Toolbar pulls in many useful marketing data points to make it easy get a more holistic view of the competitive landscape of a market right from your browser. In addition to pulling in useful marketing data this toolbar also provides links to the data sources so you can dig deeper into the data.
First Things First:
If you are casually surfing you may want to turn this extension off. To do so, click on the SEO Toolbar logo, then click on the "Turn Toolbar off" link at the bottom of the menu.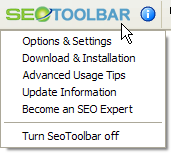 If the toolbar is off then you will see question marks near all the data points, likeso

To turn this toolbar back on, click on the SEO Toolbar logo, and then click on the "Turn Toolbar on" link at the bottom of the menu.
SEO Toolbar Features:

As you surf the web the SEO Toolbar pulls useful market research data right into your browser, including:
Link Information
Links: (Yahoo! linkdomain) shows a rough estimate of the total number of links pointing at a domain
Page Links: (Yahoo! link) shows a rough estimate of the total number of links pointing at a page
Under the advanced information button

you can also see details like
Uniqe linking domains: this comes from the fine folks at Majestic SEO
.edu Link: (Yahoo! .edu linkdomain ) shows a rough estimate of the total number of .edu links pointing at a domain
.edu Page Link: (Yahoo! .edu link ) shows a rough estimate of the total number of .edu links pointing at a specific page
.gov Link: (Yahoo! .gov linkdomain ) shows a rough estimate of the total number of .gov links pointing at a domain
Directory Information
Dmoz: searches the Google Directory to count the total number of pages from a site that are listed in DMOZ, and the total number of pages listed in DMOZ that reference that URL.
dir.yahoo.com: is a site listed in the Yahoo! Directory or not
BOTW: is a site listed in the BOTW Directory or not
Other Competitive Details
PR: (Google PageRank) an estimated measure of global link authority
Age: age pulled from Archive.org, shows the first time a page was indexed by Archive.org's spider. The theory is that if Archive.org found a page so did many of the major search engines.
Advanced Information Button
Clicking on the advanced information button

allows you to bring up a lot of SEO related details, including
Site background information
Site links
Page links
Directory listings
Traffic estimates
Social media information from popular social bookmarking and social news sites
And you can easily export all this data.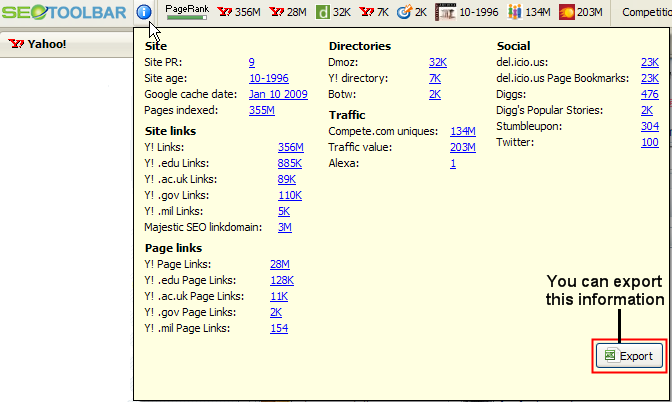 Competitive Research Links

Provides links to a variety of competitive research tools, including...
Compete.com
Alexa.com
Google Trends for Websites
Quantcast
SEM Rush
Additional tools/features...
IP address: IP address of the host
Search for sites on the same IP address: search Live Search based on IP address
Whois data: find out who runs a site
Server header checker: is a link being 301 redirected? 302 redirected? how many jumps are there? find out using this tool (you may need to use it combined with the user agent switcher on some complex dynamic sites)
User agent switcher: change your useragent to detect how bots see a page or site (may require clearing cookies and restarting browser)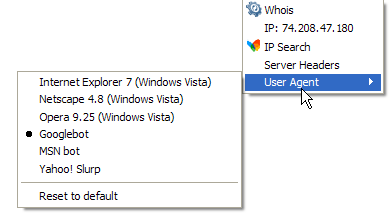 Highlight Nofollow Links
Highlight nofollow links. You can turn this on or off with the click of a button...this button

Rank Checker
We built our popular Rank Checker directly into the toolbar. Access it by clicking on this button


Watch this video to learn more about Rank Checker, or read the official usage instructions.
SEO X-ray
We built in our popular on page SEO analysis tool - SEO Xray. This allows you to look at things like on page headings, internal links, external links, and gives you access to our keyword density analysis tool.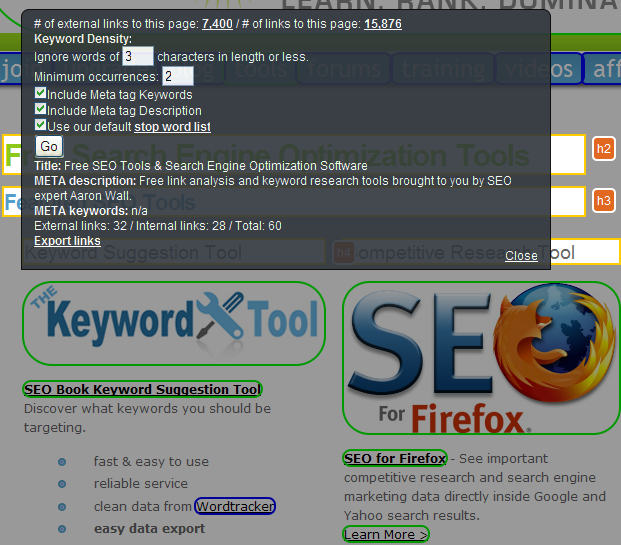 Keyword Research Tools
Want access to keyword research tools right from your browser? We allow you to select your favorite tools from a list of a dozen different keyword tools! Simply put a checkmark next to the ones you like, then enter your keyword into the search box and you will see a number of tabs open, with 1 keyword tool in each tab.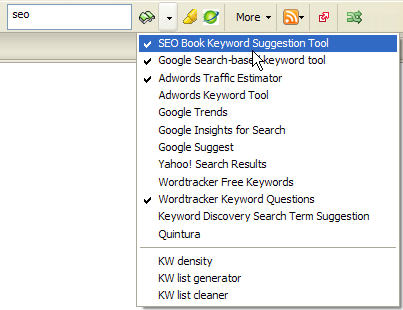 We also link to our keyword density analyzer, keyword list generator, and keyword list cleaner at the bottom of this menu.
Highlight Keywords on a Page

The highlighter between the book and the green globe allows you to highlight keywords that appear on a page.
Ask SEO Questions & Find SEO Answers

The green globe next to the search box allows you to search SeoBook.com for answers to your SEO questions. Anytime you have an SEO question you can search our site, as we are likely to have answered most SEO questions at one point in time.
If you are a paying subscriber you can also use this search feature to find our training modules and to search our exclusive member's only forums.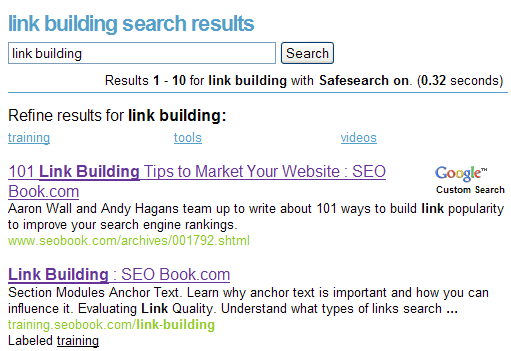 Built in Feed Reader
We also built a feed reader directly into the toolbar, pre-populated with a bunch of great SEO blogs. You can delete any of these blogs from the list, and you can easily add any blogs you want to subscribe to.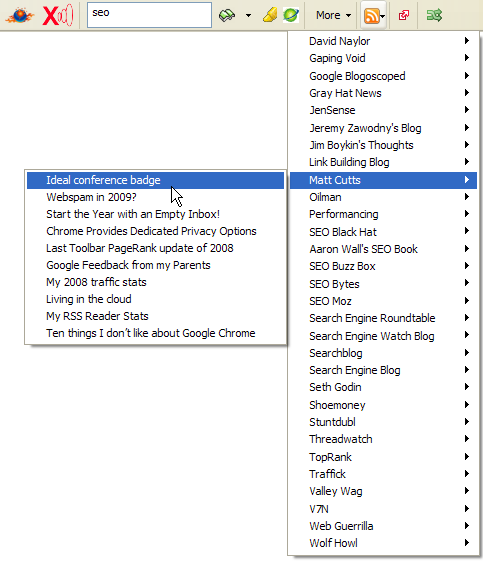 Compare Websites
Want to compare 2 or more websites? We allow you to compare up to 5 at a time. Just click on the comparison button

Then double click in the URL box you want to add a site profile to. Proceed to the next box until you have listed up to 5 sites.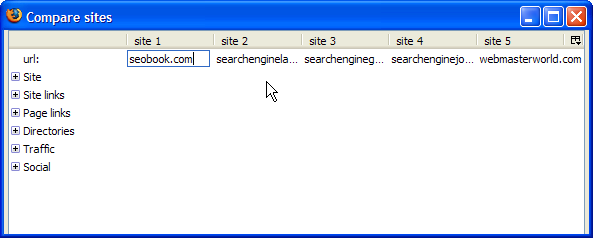 When you are done entering sites, click the get data button in the lower left corner. Once the data is pulled in you can
compare it within the window
click on any datapoint to go to the source
export the data to a CSV file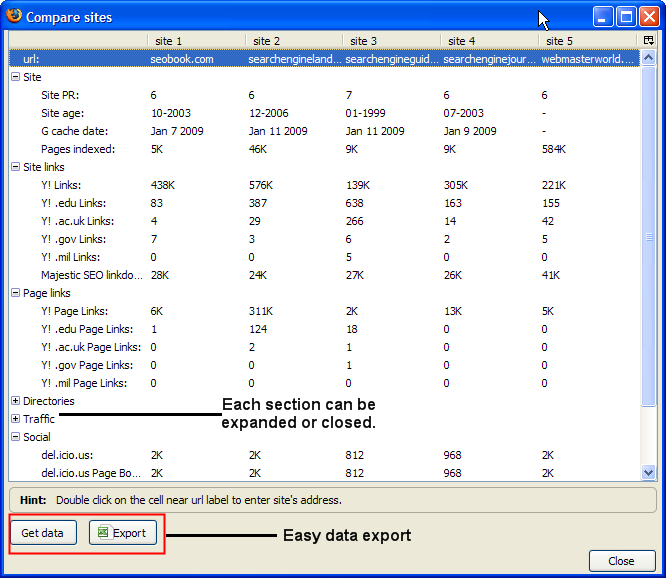 A Plug in With More Data & Easier Access
Options Panel
This tool has a built in options panel, accessible by clicking on the SEO Toolbar logo.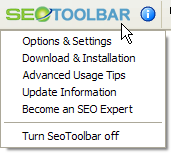 You can chose to turn data points on or off, change highlighting colors, add user agents for the user agent switcher, and change a few other settings.
Unrivaled Flexibility

This toolbar is designed to be exceptionally flexible. Lets say you wanted to add the spell check from the Google Toolbar into this toolbar, and you wanted to replace our PageRank dispaly with their PageRank display. To do this you would
right click near the top of your browser
select customize from that menu
select things to add or remove from the toolbars by dragging and dropping them. additional buttons will also appear in a "Customize Toolbar" window.
click done at the bottom of the "Customize Toolbar" window when you are finished.

How to Update The SEO Toolbar:
This extension also will periodically update when we add new features. There is no need to reinstall this extension to get it to update. To update this extension
While in Firefox look at the menu across the top of your browser. Click on the tools link.(or hit Alt T)

From the tools drop down menu click on extensions menu (or hit Alt E)

At the bottom of the extension box click the find updates button. If there is an update available for any of your extensions there will be an Update Now button to the right of the extension.
Update Log
Updates will appear on our updates page located here
Installation Issues
Left Aligned With No Buttons
Having issues getting the SEO Toolbar to work? The most common issue users run into is a need to restore defaults (as sometimes they are not set up on install, or during updates). If you have this problem it will look something like the following image (with all the lines left aligned and no buttons displayed)

To fix that issue (by restoreing default sets) you need to click up top in Firefox (above the address bar), then click on customize.

That will open up a window which has a button at the bottom named "restore default set." Click on that and the toolbar should work.
Toolbar Too Wide?
Does your toolbar run long horizontally? once you go into the customize option (pictured above) you can decrease its width 2 ways
At the bottom of the customize menu make sure it is set to "icons" rather than "text and icons."
If there are particular buttons you do not use much you can remove them from the toolbar.
The other issue some people have is that they accidentally turn it off and forget how to turn it back on. The on/off options are in the dropdown menu that appears when you click on the SEO Book logo.
Possible Future Upgrades:
Maybe proxy searching ability
Maybe a regular search box
We'll see. Depends on feedback :)
Other Useful Related Firefox Extensions and Goodies:
SEO for Firefox is worth a look. It pulls in similar datapoints as the SEO Toolbar does, but it puts them inline with the search results.

Rank Checker is well worth a look. View a list of related useful extensions on our SEO extension page.
Conflicting Extensions:
There might be a few conflicting extensions. If this extension works on Yahoo! but not Google then check to see if you have some other potentially conflicting extension that is customizing Google. If it works on nothing then throw your computer out the window or read comments left by others here. If you still have questions you can ask them here.
Gain a Competitive Advantage Today
Your top competitors have been investing into their marketing strategy for years.
Now you can know exactly where they rank, pick off their best keywords, and track new opportunities as they emerge.
Explore the ranking profile of your competitors in Google and Bing today using SEMrush.
Enter a competing URL below to quickly gain access to their organic & paid search performance history - for free.
See where they rank & beat them!
Comprehensive competitive data: research performance across organic search, AdWords, Bing ads, video, display ads, and more.
Compare Across Channels: use someone's AdWords strategy to drive your SEO growth, or use their SEO strategy to invest in paid search.
Global footprint: Tracks Google results for 120+ million keywords in many languages across 28 markets
Historical performance data: going all the way back to last decade, before Panda and Penguin existed, so you can look for historical penalties and other potential ranking issues.
Risk-free: Free trial & low monthly price.